We've said it before. Mobile apps continue to outpace mobile web in time spent. In fact, per eMarketer, mobile apps are expected to account for about 85% of total mobile time spent in 2017. This means mobile internet users will average about two and a half hours per day using apps. Meanwhile, time spent with a mobile browser is expected to remain stagnant at 26 minutes per day.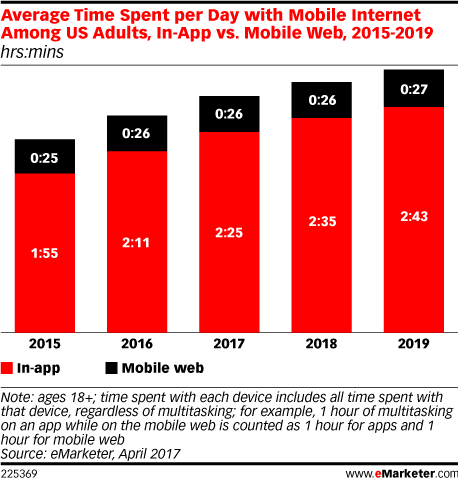 It's safe to say people love mobile apps
Judging by the sheer dominance in the way apps have outpaced mobile web, it's safe to say people love and prefer the apps on their smartphones and other mobile devices. This is not hard to understand considering apps are easy to use, and they can provide users with instant gratification. Mobile web can sometimes make for a frustrating experience, especially when the website isn't optimized for mobile.
Cathy Boyle, eMarketer Principal Analyst, says "American consumers spend the bulk of their app time conducting five activities: listening to digital audio, social networking, gaming, video viewing, and messaging."
What this means is that if you want to keep consumers engaged with your brand, you should offer them an app. And that app should deliver more than just your stream. To drive engagement and get your audience talking to you, your app should be unique… like your brand. Offer users on-demand audio and video content, as well as different ways to interact with you (like social media), to create a fully engaging mobile experience.
Another key finding in eMarketer's report was as Americans' in-app time goes up, the number of apps they're using is slowly declining. In 2016, US smartphone users used an average of 21 apps per month on their smartphones. By the end of the forecasting period, that number is expected to drop to 20.1 apps.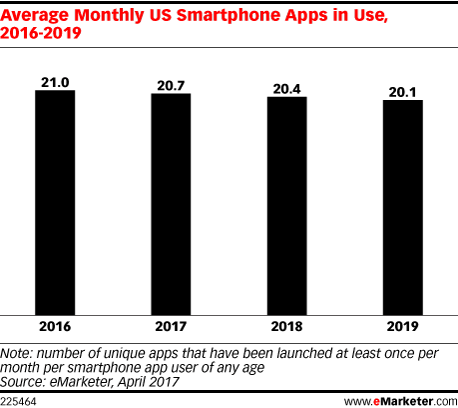 This isn't surprising news since we reported back in September that 63% of app users become inactive within the first 30 days. For this reason, it's important to keep your customer base engaged. Mobile apps create an instant connection between your business and your audience. People who download your app are likely your best customers, and they give your brand a small piece of precious real estate on their device so your message is never more than a tap away – useful to them and your business.
There's a reason why our apps have generated more than 28 million downloads worldwide – we put the end user first. Click here to reach out to us today, give us a call at 248-353-9030, or email sales@jacapps.com.