Recently, our President, Paul Jacobs and our COO, Bob Kernen spoke at Better Business Bureau in Southfield, Michigan. During this event Paul and Bob gave insight on the 5 Things All Businesses Need to Know About Mobile. Because of mobile usage, our culture has permanently changed in countless ways.

Before looking into the important things to know about mobile, check out this video below showing the things the iPhone helped destroy!

Well, now that we can see how the iPhone and apps have proven to be helpful in every way.. lets take a look at the 5 important things all businesses need to remember and learn when dealing with mobile!

Thing 1: The smartphone is King

"There's an app for that!" App transformed the smartphone into a phenomenon. Owning a smartphone is becoming more common every day. Smartphones are always with you…people even sleep with them!
When apple launched the App Store the world changed. Showing that since 2016, mobile takes over desktop showing that 63% of internet usage is on mobile devices. However, only 10% of time is spent on smartphones is on mobile websites. And this is where we see how apps rule; 90% of time spent on smartphones is spent on mobile apps!
With that being said, smartphone is king by being the most valuable real estate a marketer can have. Where all companies can participate, and being a limited barrier to entry.

Thing 2: What is an app?

Alright, so lets talk basics… what is an app exactly? The basic definition of an app is that an app is self-contained piece of software designed to serve a discreet function and work on a specific type or types of devices. So, we can see that an app isn't a website on your phone!
So, what is the purpose for an app? It's purpose build software that leverages the power of the smartphone. While bringing us location awareness, phone/email/text integration, part of the purchase function.
Not only are apps easy to use, apps are easy to get! Users get apps in the two major apps stores; Google play and iTunes AppStore.

Think 3: What does a developer do?

Here are jācapps, we have a complexed development process in order to satisfy and help our clients succeed with their new apps!
Our development process goes through 4 steps…
Discover, design, develop and deploy: 
Discover:

We discover where your app will take root and draw inspiration from our conversations with you to brainstorm the ideas and discuss the requirements that are needed for development.

Design:

Once a concept has been approved, we combine skills and strategy to make sure your apps look great and are easy to use.

Develop:

After you've approved our specification document, our in-house development team gets to work. This phrase culminates with rigorous QA testing.

Deploy:

We submit your apps to their respective stores and watch the download numbers skyrocket! But we don't stop there… we provide ongoing maintenance and upgrades to ensure compatibility with new devices and iOS versions as they become available.
Click here to see more of what we do!
Thing 4: What apps can do

Apps are on more than just your mobile devices. jācapps app everywhere communicates across all devices! Through mobile phones, connected car, smart TVs, smart speakers, tablets, and wearables.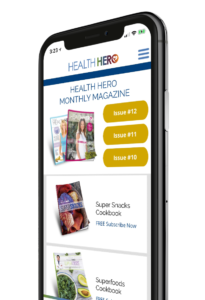 Let's take a look at some of our clients and the apps that have been created for them!
 Dr. Nandi's Health Hero

Dr. Nandi wanted to create a resource that is reachable anywhere and anytime for the individuals who are changing their lives to make health #1 priority! He wanted individuals to have access to health & wellness tips, research, cookbooks, answers to questions, and help meet each individual need, throughout their health & wellness journey.
Our team created an app that is designed to:

Receive simple and powerful daily health and wellness tipsProvide a full library of books on topics from Beating IBS Naturally to Organic Living to Living Gluten-Free and more.
Provide a monthly Health Hero Magazine with articles on the latest research in health and wellness, interviews with thought leaders and industry experts.
Provide an exclusive link to the Health Hero Superfoods Cookbook
Provide the "Calming The Chaos" 7-day audio program- Dr. Nandi's foolproof formula to kill daily stress in minutes.
Supply a private, member-only Health Hero Facebook Group where Dr. Nandi delivers health and wellness information, answers member questions, hosts Facebook live segments and more.
Lawyers Mutual (LMIC)

LMIC wanted to get text and video content to their clients in the easiest to use way to certify that those clients received that content and information. As well as, verifying that the information was understood in order to providecertification.
Our team created an app that allows the users to log-in and see the content that they needed to review in order to get their continuing education credits and other certifications.
Using this app, users can:

Easily log-in, watch a video or read a PDF, and take a short quiz. All of this engagement is recorded and credited to the user toward their continuing education requirements.
This app is unique in that it puts content that usually has to be consumed in front of a desktop environment and puts it in a place where users can easily get to it and use it in the place and time that bests suits their busy schedules.
For LMIC, it provides a competitive differentiator and a way to have a closer relationship with their clients by providing many more touch points with that client.
Click here to check out some more of our work!

Thing 5: Marketing your App

Our work with you does not end at the sale. We will continue to market your app through database, website, social media, advertising, and signage!
When dealing with the database, we will use your company's database to create messages to your clients about the benefits and how easy it is to get your product. While through your website, we will create a page on your site that shows users how to get the app and how to use it.
But, we don't stop there we will advertise your products through social media and signage by talking about your new app in regular posts and create signage for your retail locations that helps show off your new app and all the benefits it has for your customers!
Click here to check out more of who we are! 
If you are interest in us, the apps we've built,  or a product of your own, contact us at sales@jacapps.com or (248) 353-9030