Let me set the stage for you . . . .
It was eleven years ago.  Our research showed radio had lost its portability to the iPod.
The iTunes App Store opened in July.
And in the fall, the economy went down the drain.
In the midst of all of this, our head of digital, Tim Davis, marched into the conference room to show us an app for a radio station he'd downloaded onto his iPhone (he was the only one in the company that owned one).
It was basically a streaming app, but Tim made the case to us that this solves radio's portability problem, and since the iPhone was so cool, radio stations would want to be on it.
What did we do?  We tossed him out of the conference room.  With the economy in tatters, combined with our complete lack of knowledge about software development, it might have been one of the dumbest ideas we'd ever heard.
Until it wasn't.
A few days later Tim told us the guy who developed the app he showed us agreed to develop for us as an outsource partner for a fair rate.  So, armed with no business plan, capital, employees, or knowledge, jacapps was born.
We didn't even know what to call it – there was no standard for naming an app development company, so we just took the first three letters of our last name and butted it up against "apps."  And as you can tell from our original logo, not a penny was spared in the original marketing strategy for the company!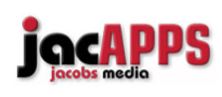 Looking back, it was a combination of timing, good fortune, a ton of hard work, great clients who believed in us, and hiring really good people, who we like to describe as "half our age and twice as smart."
As the company grew and we began hiring, we had nowhere to put them, because our offices were designed for consultants (read: boring).  Plus, there was no room.  Voila!  We had a huge storage room so that became the new home for the company.  Of course, we soon outgrew that and moved into much nicer digs.  Why?  Because the staff convinced us that if were going to get really serious about this company and wanted to hire great people, the environment was everything.  See, I told you they were smart.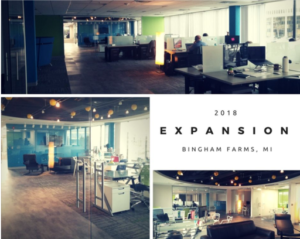 Eleven years later, we've developed over 1,200 apps and are still going strong.  How did this happen?  Here are a few of the lessons we've learned during this grand adventure known as jacapps.
Ideas are the currency.  That had always been the mantra of Jacobs Media, but the decision to start jacapps was premised on a great idea founded in research combined with a spark.  Three years before jacapps opened we launched our first Techsurvey and quickly began asking about smartphones.  Seeing how consumer behavior was changing combined with our understanding of the radio business and its needs created a scenario where with a simple press release about our idea, a great business began.  We didn't know much about the business we entered, but we were confident in our idea and we just went for it.  Plus, who was starting a business in late 2008 with the stock market losing 1,000 points/day?  We had the field to ourselves.
Hire people who know things you don't.  In 2008, there were virtually no apps, so where do you look to find an app developer?  It was daunting, and we had to go out and simply find smart people.  And did we get lucky.  Kate Levy, who's been with us close to eight years and is our VP/Development was the game-changer.  We really didn't know what she was talking about when we first hired her, and we're sure she hadn't been around a couple of radio veterans, but we knew she was smart and let her run with it.  We haven't looked back since then, and have added other great talent and leaders like Ben Levy (yes, her brother), Chelsea DuFour, Nathan Turner, and the guy who took over the company 6+ years ago, Bob Kernen.  They run the company day-to-day now – – we're smart enough to provide guidance but to let them do their work and get out of the way.
Never stand pat.  One of the first lessons we learned was that mobile is an incredibly dynamic space.  Not only do operating systems change and new devices are constantly being released, but new features and uses kept springing up.  Looking back, it seems like the mobile space changes every 6-9 months, and like it or not, we had to be adroit.
But, change has also been the secret sauce for jacapps.  We were the first developer to recognize the impact of Apple CarPlay and Android Auto and moved quickly to get them installed into our apps.  We've created a push messaging platform and developed partnerships with companies like Aptivada and Instreamatic.  We designed our platform to be amazingly flexible and able to provide clients the ability to change their apps as often as they'd like so their app is in-sync with their product.
The other big moment was when the company decided to expand beyond just developing apps for radio clients. When we started in the business, the hottest apps were the Zippo Lighter and iFart.  Hardly any businesses or organizations thought about having an app.  But we recognized that any company or organization can have an app, and today, our "custom" app business has developed apps for a wide array of companies – road builders, construction, weight loss, and more.
Concurrent with moving to custom apps, we also discovered that our "B-to-C" model was limiting.  Companies began to call us with "B-to-B" needs – they weren't looking for thousands of downloads.  Instead, they had specific needs for a finite group of their customers.  Once we saw that potential, we jumped into that space as well.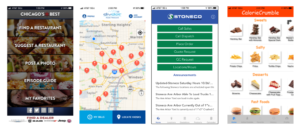 And as our radio clients began to demand more complex apps that use registration and other high-level features, our work outside of radio enabled us to develop skills that could be applied to radio apps, and have led to the development of world-class apps for WTOP, Relevant Radio, the Bob & Tom Show, and more.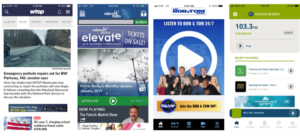 As I am writing this, I guarantee the team is down the hall dreaming up the next big thing.
Clients make you better.  Because mobile is such a dynamic space, we are constantly being pushed by our clients to fulfill their latest need or concept.  And because our client base is so large, jacapps has improved because of these requests.  I won't single out any particular client or clients here but I do want to thank them for being a big part of our success, and I encourage you to keep pushing us.
11 years.
1,200 apps.
Hundreds of great clients.
And an amazing team of passionate pros who make it all happen.
That's what jacapps is.
Here's to a great future together.