By: Paul Jacobs
Great news for news stations! Mobile Apps Are the Gateway For News Stations to Reach Millennials.
All news stations – whether commercial or public – struggle to generate great ratings among the notoriously hard to reach Millennial generation.  There are many reasons for this, and a new study from Qualtrics on behalf of Localytics indicates the best way for news-formatted stations to reach Millennials is with a mobile app.
The survey focused on consumers who have news-oriented apps on their smartphone, and found that overall, one-third (36%) report usage of these apps has increased in the past year.  Among those people, increased use of news-oriented apps was highest among Millennials: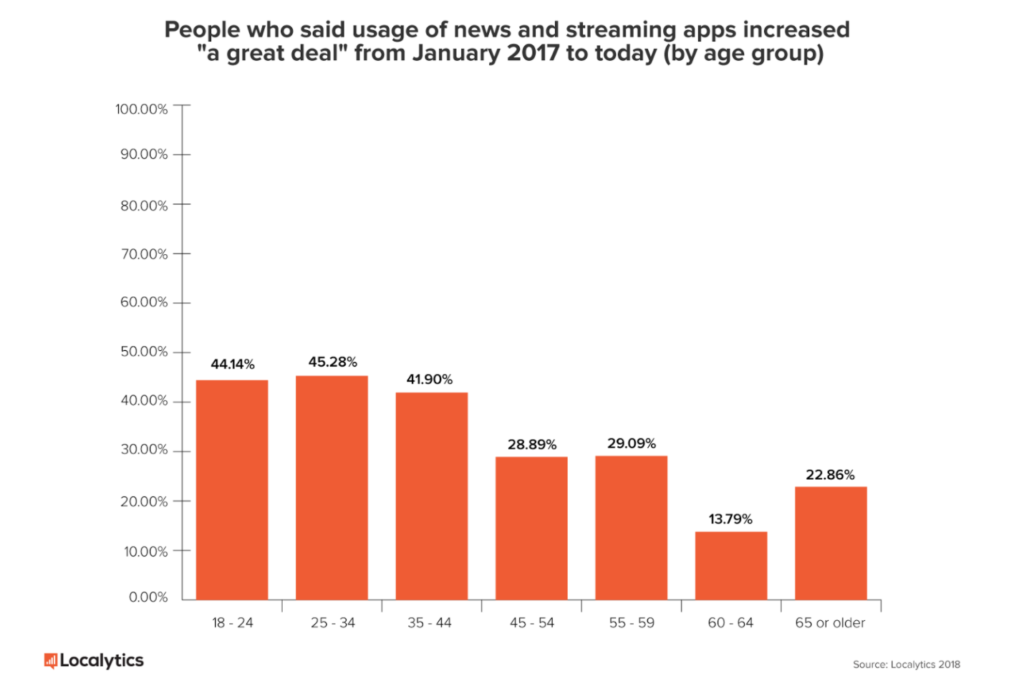 Apps for news stations are a perfect fit for these young consumers as 85% of respondents get news from their smartphones.   The study finds that three-fourths (75%)  will get news on their app when they receive a push notification about breaking news.  Clearly, this is a feature you want to have in your mobile app.
Finally, we want to draw your attention to an outstanding mobile app we created for WTOP in Washington DC.  This study also concluded that the most effective news apps provide some level of personalization which is a prominent feature in WTOP's new app.  Check it out – we feel this app is "best in breed" and exemplifies what a great mobile app should be for a news radio station.
Download the WTOP app from iTunes here. It's also available in the Google Play Market here.
You can read more about the study's findings at:  http://info.localytics.com/blog/news-and-streaming-apps-survey-2018?utm_medium=email&utm_source=marketo&utm
Simply having an app isn't enough.  Understanding how to make the app reach new listeners and increase engagement is key to maximize your investment in your mobile strategy. And solidifying your future with a younger audience is pretty important too.
To learn more about how mobile apps can benefit your business, reach out to us at 248-353-9030 or marketing@jacapps.com we love talking mobile!